4 Ways to Make Your Billing Process Patient-Friendly
If you've ever been on the other side of the RCM process, you probably can understand some of the chief patient frustrations. Surprises in timing, coverage or costs can irk even the savviest of healthcare consumers.
Delays, inefficiencies and (ultimately) lost revenue plague underperforming practices and ambulatory care centers throughout the patient billing process. These practices aren't collecting because their methods are not streamlined and delivered in the way that's in the best interest of the patient. And with healthcare consumerism continuing to become more prevalent, it's more important than ever for providers to enable patients to pay.
So how does a practice correct its patient billing process to rectify missteps and optimize the process? We turned to our experienced team for some insights.
[Get in touch with us to talk about patient collections]
Bill at the time of service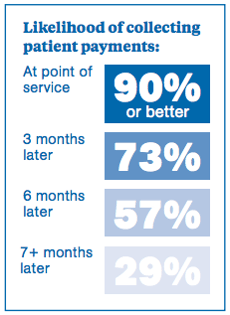 The medical field is one of the only areas where consumers believe they'll receive the product or service before they pay for it. But the bill-later approach impedes successful collections:
According to McKesson (see the graphic), payment collection is at about 90% at the point of service, but dramatically lower when it takes longer to collect.
Billing at the point of service is a shift in modern healthcare that's long overdue, according to HealthiPASS CEO Rajesh Voddiraju.
"People who have been in healthcare 20+ years have the attitude, 'This is how we've always done it,' " Voddiraju says. " 'We've always billed the patient way after the service was delivered.' Why is this so backwards in healthcare?"
Have patients provide information up-front -- then don't make them re-enter it
Securing patient payment information at the time of service is a key component of ensuring that patients cover their responsibility when you're ready to issue a bill. If you're not collecting at the time of service, you're still gathering the details necessary for expedient collection in the near future.
In order to maximize collections, temporarily storing those details is an equally important step to take. Retaining patient information helps them avoid jumping through the hoops of entering details at several stages over the course of time. Why complicate the process if a patient is prepared to pay for their care?
[Download our 10 best tips on collections]
Provide a mobile portal
As smartphone saturation continues to grow, with nearly two thirds of American adults owning smartphones, offering the ability for patients to pay on the go is increasingly important to providers. According to InstaMed, 75% of consumers already pay household bills through online payment channels -- an optimized provider should offer the same channels for medical billing.
Web access is important, but the largest growth markets are mobile and tablet technology. In just five years, mobile payments have increased from 2% of overall payments to 18%. Optimize your payment process through mobile channels to be ready once paying through on-the-go platforms becomes ubiquitous.
Follow up electronically
If you're not asking for payment, consumers probably won't prioritize it. Over the past several decades, healthcare has been seen as something insurance will cover and patients won't really have to deal with. This attitude, while a relic of a different era of healthcare revenue cycle management, persists -- because many past medical bills were seen as "play money" that practices wouldn't really be able to collect in full, current bills are thought as either highly negotiable or simply not worth paying.
As a result, the onus is on providers to regularly remind patients of their due balances and ask for payment. It's not just about asking, but asking in the right places. Find out how consumers want you to contact them, then use those channels -- calls, emails, app notifications, etc. -- to communicate with them in a way that's comfortable and convenient.